London history over 2000 years
London history over 2000 years
Londonwiki is a wiki about London history
This site is obviously about London history. It's an old site. Much of my detail relates to pub history, as they are fairly easy to track; well sometimes.
There is a brilliant and exciting new project just beginning at the University of London and the Institute of Historical Research, the
Layers of London
team which records the history of London through layers of maps; some new, most are old. It is brilliant.
The latest idea is to add all pubs onto these maps, all of them - old and new. And it has started.
The project is sourced by volunteers, myself included, and is a crowd-sourcing project. I believe this means anyone can get involved with a little training.
The maps are magnificent, and include Mediaeval map (1270-1300), a Tudor map (1520), Agas map (1561-1633), Faithorne & Newcourt (1658), Ogilby & Morgan (1676), Morgans map of City of London, Southwark & Westminster (1682), John Rocques map (1746), County of Essex (1777), Horwood (1799), Greenwood (1828), Charles Booth poverty map (1886-1903), OS Maps (1893-1896), OS Maps (1940s-1960s), Bomb damage (1945), RAF collection (1945-1949) and lastly a modern satellite map.
I am yet to savour all of these incredible resources properly, it is amazing. Here is the
London Pubs collection
, as it continues to grow.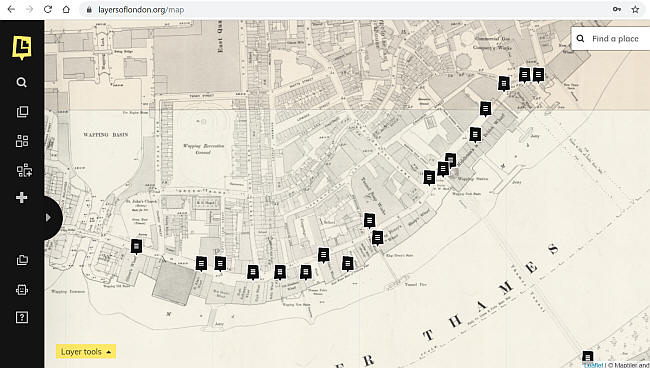 An example of the pubs along Wapping High street, most are closed long ago.
London pub history directory.