Strand WC2, the western section in 2020
A day spent on the Strand in March 2020. Lots more to follow.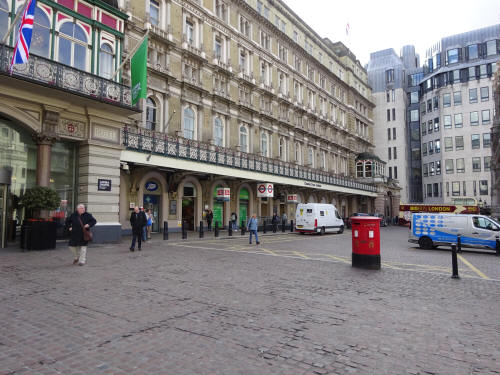 Charing Cross Railway station frontage from the Strand - in March 2020
If we enter the station, there is a large concourse with lots of food suppliers, restaurants and toilets which are 'free' and clean. There are accessible toilets, and everyone else needs to access via a number of stairs. I was here last year when the Burger King meal was very expensive. This is probably why they are empty a lot of the time.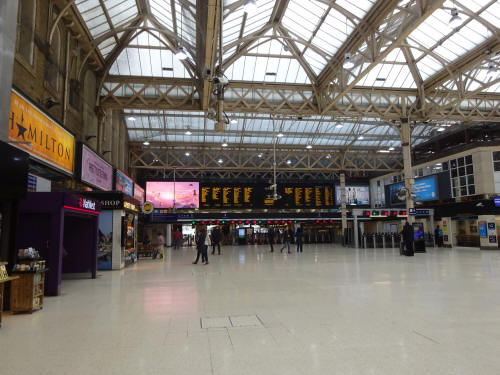 The concourse at Charing Cross, with shops and restaurants in March 2020
I am not actually interested in the Strand, but the toilets were worth a mention (always).
Exiting the station again, we are very near to Trafalgar square, and across the Strand is Duncannon street. I took a few random pictures, as I find google maps disorientating to say the least.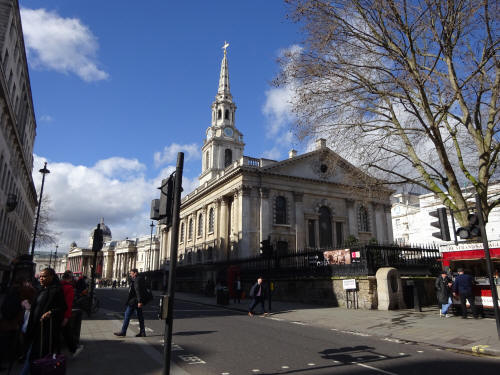 St Martins in the Fields, Duncanon street - in March 2020
The numbering in 1921 appears to be roughly in agreement with today.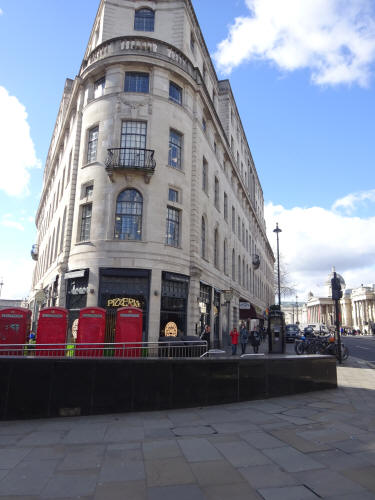 Pizza Express, 450 Strand & Duncannon street was J Lyons, 450 Strand in both 1921 and 1940.
In 1921, the Golden Cross Hotel was still in existence at 452 Strand, but the John Bull Pen co. in 1940.
Across the road was a strange looking Tardis structure, it was an entrance to an underworld which would stop a lot of people from trying out, but it was fairly well described as entry to 'Londons Hidden Cafe'. I was heading for this anyway. It is all part of St Martins in the Fields church.
As well as a lift, there are alternative entrance methods, only 22 shallow steps recommended for the exercise and much quicker. Also a mention that some people need to use the lift, and would appreciate you using the stairs if you can!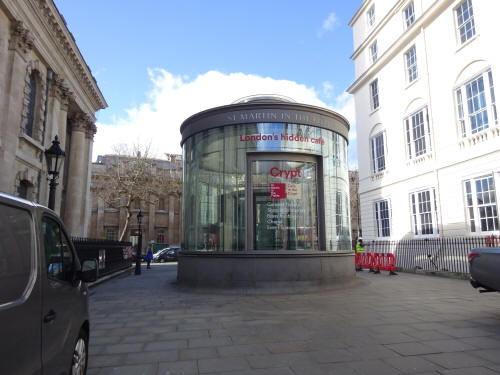 Cafe in the Crypt - entrance to a wonderful underworld - in March 2020
There is a large and varied menu. The soup was good.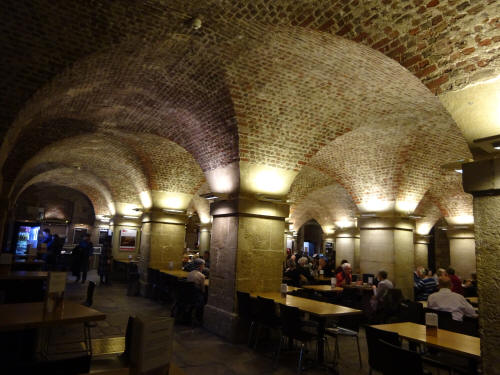 Cafe in the Crypt - the busy cafe area - in March 2020
I wandered back into the Strand and took a few photos of interesting looking buildings. There may be some history attached, and can find out as we go.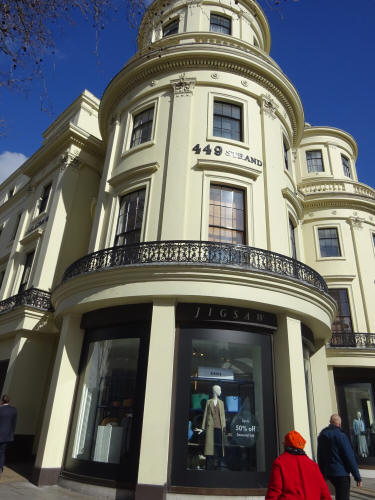 449 Strand in March 2020
At 449 Strand is a clothes shop. apparently this was a Midland Bank in 1940 as it was back in 1921. It is at the junctions with Adelaide and Duncannon streets.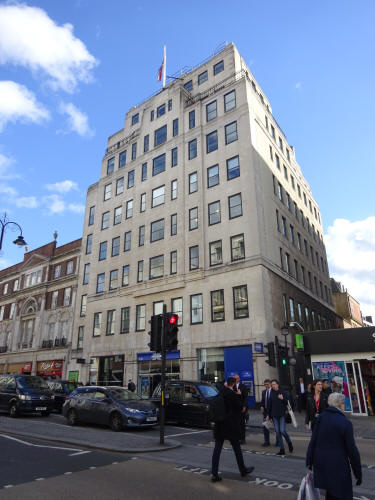 51-55 Strand in March 2020
Across the road on the south side, and along from the station is an interesting shaped building. It is alongside George court. In 1921 at number 53 was the Charing Cross Cinematography Theatre. By 1936 this was Halifax House which is what it appears to be today, in 2020.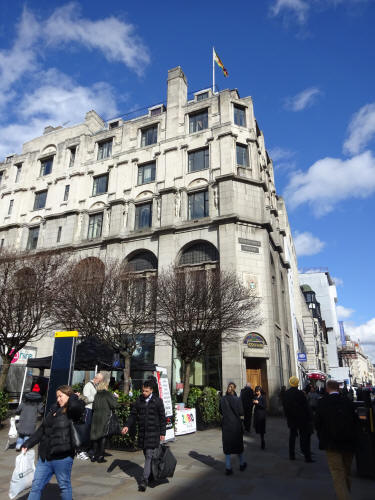 Zimbabwe House, 429 Strand in March 2020
Virtually opposite, on the north side and at the junction with Agar street and William IV street is Zimbabwe House. It was previously named Rhodesia House, being the former name of Zimbabwe, in 1936, and always at number 429 Strand. Prior to this, in 1930 it was named New Zealand building which was probably when it was first built. There was the Windsor public house at 427 Strand up until at least 1930. This is now long gone.
Once the Bun shop, at 417 Strand in March 2020
Moving along the Strand, and just past Bedford street is the Port House. It looks entirely fake frontage, but it may not be. This was the Bun shop for many years, and apparently a beer shop from about 1890.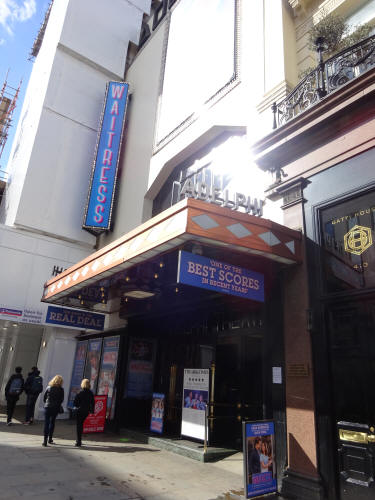 Adelphi Theatre, 410 & 411 Strand in March 2020
A few doors along at 410 & 411 Strand is the Adelphi Theatre. There was once a pub here called the Hampshire Hog, and was absorbed into the theatre in about 1887. It has been a theatre since then.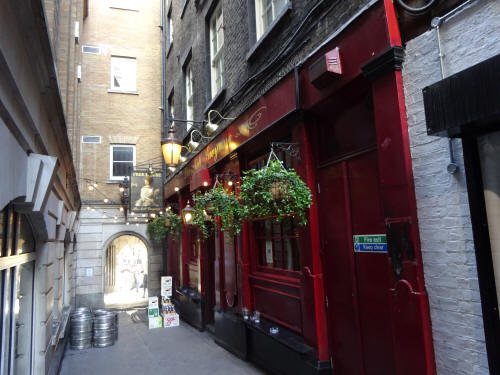 Nell Gwynne Tavern, Bull Inn Court in March 2020
Next at 408 Strand, this was the Cottage Tea rooms in 1921, and also in 1936, and it has the famous Bull Inn court alongside. Bull Inn court is famed for the legendary Nell Gwynne Tavern. I have researched this, and it may not be as old as it suggests.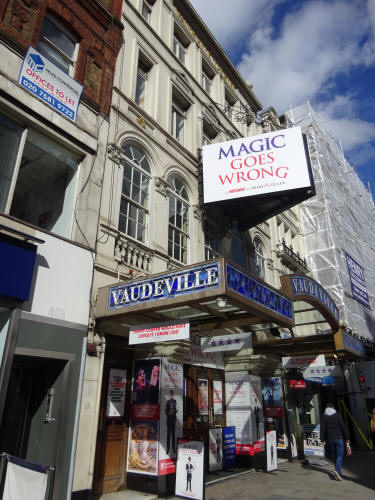 Vaudeville Theatre, 404 Strand in March 2020
The Vaudeville Theatre is at 404 Strand today, as it was in 1940, and in 1921; and apparently it has been here since 1870. A quick look at the 1875 directory confirms this and there was a Queens Head hotel next door at 405 strand. The Queens Head is here until at least 1911.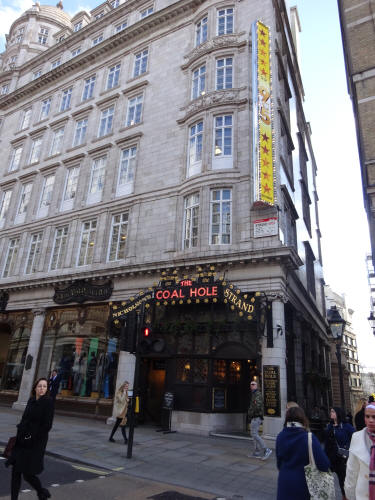 Coal Hole Tavern, 91 & 92 Strand in March 2020
If you now cross to the south side of the Strand again, just opposite Southampton street is the Coal Hole Tavern at 91 and 92 Strand. In 1875 this address was the Uptons Salisbury dining rooms; and from at least 1921 it is Patrick & McGregor Limited, Wine Merchants.
The Coal Hole was the early name for the Occidental Tavern at Fountain court.
And Last updated on: Friday, 15-Sep-2023 12:28:12 BST