London Robsons Street Directory in 1832 - White Lion street, Spitalfields
Robsons 1832 directory index
This is the earliest street directory I have found so far which also includes pub history detail.
White Lion street, Spitalfields
1 Priest R J
1 1/2 Thompson John
3 Trollope J
4 Bowden George
5 Rossiter J
8 Smith Benj
9 Wadden Barrett
10 Leigh Philip
11 Pearson William
18 Gordon David
20 Edmeads John
22 Betteley Sam
Crone Charles
16 Walker Henry
16 1/2 Pitkin John
Dye Robert
22 Duchesne Clark
24 Frith Joseph
26 Franks John
27 Old Pewter Platter, Sams Josh
29 Ferry Jos
30 Sharp & Woodham

And Last updated on: Monday, 15-Jun-2020 11:57:49 BST
And in comparison from 1842, although with no links as it is an image. It does include much more detail about trade details rather than in 1832.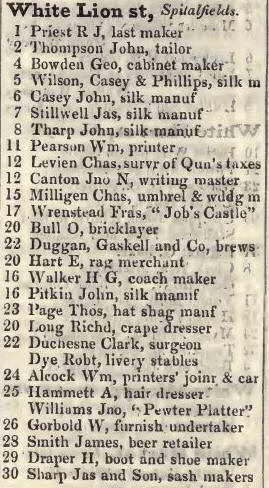 White Lion street, Spitalfields 1842 Robsons street directory
London pub history directory.