London Robsons Street Directory in 1832 - Little Windmill street, Haymarket
Robsons 1832 directory index
This is the earliest street directory I have found so far which also includes pub history detail.
Little Windmill street, Haymarket
1 Dawes F J
2 Cook George
3 Miller Peter
4 Adams George
6 Williams John W
6 Watkins William
12 White Horse
12 Smith George
13 Kohlbeck John
Doyle Thomas
18 & 19 Wine Vaults, Lee Henry
20 Bulls Head, Hewson E
21 Green Thomas
23 Beeston H G
26 Aston C P
27 Fleece, Sharpe Thomas
28 Joyce John
29 Coles L
30 Reilly E
31 Ims Ch
34 Holles Walter
36 Hamley & Bowser
38 Nicholls Mich

And Last updated on: Monday, 15-Jun-2020 17:17:03 BST
And in comparison from 1842, although with no links as it is an image. It does include much more detail about trade details rather than in 1832.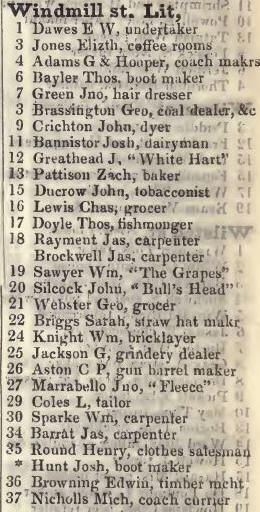 Little Windmill street, Haymarket 1842 Robsons street directory
London pub history directory.