London Robsons Street Directory in 1832 - Gravel lane, Southwark
Robsons 1832 directory index
This is the earliest street directory I have found so far which also includes pub history detail.
Gravel lane, Southwark
George, Rampling
Lloyd John
Stammers Thomas
Byers Alexander
Shepheard John
9 Colwell C
10 Criswell William
Ede John
12 Vaughan & James
Taylor & Saxton
13 Duffill H H
14 Willmore Benjamin
15 Hope Tavern, Emery A
16 O'Brien M
17 Hunyt Isaac
18 Pitcher Thomas
Miller Henry
21 White Hart, King G
28 Vigers John
34 Jones J
38 Palmer John
Sugden William
39 Cheshire Joseph
54 Hodges Thomas
54 Bedwell Richard
52 Kendrick Richard
39 Smith Thomas
46 Wray George
Hat & Feathers, Pay Richard
42 Groeger Carl
Golden Lion, Hornor Major
40 Rowbotham James
4 Baker R
46 Barrett G
41 Wall William
37 Drummond T
34 Clark Thomas
32 Woolpack, Bryon T
31 Tillcard W H
30 Bowen J
29 Ashman George
Duffill James
Cick James
Bratt William
Condon William
18 Humphrey Thomas
Hand & Flower, Clarke John
6 Hamlet Thomas
7 Schofield John
8 Bridges William
Hawkins Thomas
Benman L
Aldred W


And Last updated on: Wednesday, 20-Nov-2019 11:03:02 GMT
And in comparison from 1842, although with no links as it is an image. It does include much more detail about trade details rather than in 1832.

to Woolpack, Gravel lane, Southwark 1842 Robsons street directory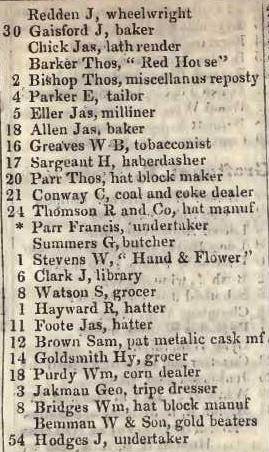 Gravel lane, Southwark 1842 Robsons street directory
London pub history directory.