London Robsons Street Directory in 1832 - Grafton street East, Tottenham court road
Robsons 1832 directory index
This is the earliest street directory I have found so far which also includes pub history detail.
Grafton street East, Tottenham court road
1 Nicholl W G
2 Cox John
3 Pitkeatly James
4 Leith James
7 Wiles Henry
8 Downes D J
15 Croft Thomas
16 Schofield Joseph
18 Murdock William
21 Angell Richard
22 Bubb J G
23 Fowler Edward
24 Tucker John
25 Jenkinson George

East
29 London University Hotel & Tavern, Smith William
31 Andrews Matt
32 Cooper Thomas
33 Crouch J C
34 May George
35 Woodward John
36 Gentery J R
38 Care John
39 Brittain James
Brittain Thomas
42 Chamberlain James H
43 Perrett & Co
45 Beynon Joseph


And Last updated on: Wednesday, 20-Nov-2019 11:03:00 GMT
And in comparison from 1842, although with no links as it is an image. It does include much more detail about trade details rather than in 1832.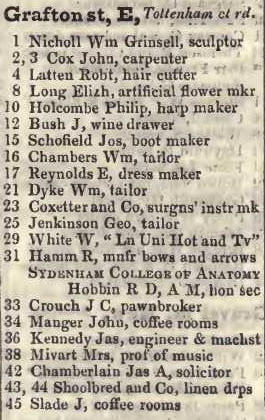 Grafton street East, Tottenham court road 1842 Robsons street directory
London pub history directory.