London history over 2000 years
London history over 2000 years
London Robsons Street Directory in 1832 - Catherine court, Tower Hill
Robsons 1832 directory index
This is the earliest street directory I have found so far which also includes pub history detail.
Catherine court, Tower Hill
1 Hewetson R & J
2 Ayres T H
Ayers & Gallaway
3 Worksworth & Co
Ray Von Frederick
4 Farrand Robert
Persall William Henry
Huggins John
4 1/2 Neill Thomas
6 Freme Thomas
7 Norrice Thomas James
8 Jenkins Fielding
9 Reimer Henry
Noy Edward Henry


And Last updated on: Monday, 11-Nov-2019 01:03:12 GMT
And in comparison from 1842, although with no links as it is an image. It does include much more detail about trade details rather than in 1832.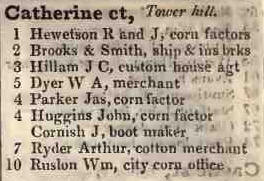 Catherine court, Tower hill 1842 Robsons street directory
London pub history directory.
Roman London, from Julius Caesar
Roman London - the London city walls
Saxon London
More London
The remains of the London Wall - circa 1926
Excavations of the London Wall