Toms coffee house : London coffee houses and taverns
A historical site about early London coffee houses and taverns and will also link to my current pub history site and also the London street directory
TOM'S COFFEE-HOUSE, 17 Great Russell street, Covent garden.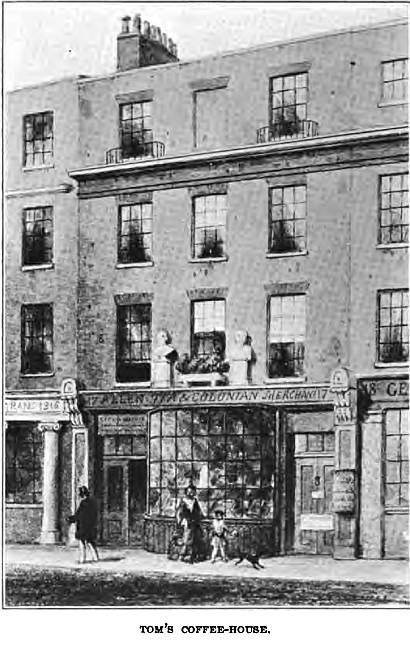 There are a few Toms coffee houses, and the above is clearly at number 17 Great Russell street, Covent garden, whilst that in Cornhill is addressed at 31 Cornhill
Toms coffee house, Birchin lane

In Birchin-lane, Cornhill, though in the main a mercantile resort, acquired some celebrity from its having been frequented by Garrick, who, to keep up an interest in the City, appeared here about twice in a winter at ''Change time, when it was the rendezvous of young merchants. Hawkins says : " After all that has been said of Mr. Garrick, envy must own that he owed his celebrity to his merit ; and yet, of that himself seemed so diffident, that he practised sundry little but innocent arts, to insure the favour of the public :" yet, he did more. When a rising actor complained to Mrs. Garrick that the newspapers abused him, the widow replied, " You should write your own criticisms ; David always did."

One evening, Murphy was at Tom's, when Colley Cibber was playing at whist, with an old general for his partner. As the cards were dealt to him, he took up every one in turn, and expressed his disappointment at each indifferent one. In the progress of the game he did not follow suit, and his partner said, " What ! have you not a spade, Mr. Cibber ?" The latter, looking at his cards, answered, " Oh yes, a thousand ;" which drew a very peevish comment from the general. On which, Cibber, who was shockingly addicted to swearing, replied, " Don't be angry, for I can play ten times worse if I like."

The 1829 Robsons directory places S P Adderley, at the Toms Coffee house & tavern, 31 Cornhill

References : Lots of references are made to two sources on the internet archive :
Edward Callows, Old London Taverns &
John Timbs, Club life of London Volume 2

And Last updated on: Tuesday, 26-Apr-2022 01:16:46 BST