Roman London, the London Wall - Trinity Place, North
Roman London - the London wall
These pages are based on a "Royal Commission On Historical Monuments 1834" - actually it is 1928; which is in the public domain.
A mapping of the area is always good, modern day compared to pre-1900 maps from the NLS site
(4) . Trinity Place, North. A length of 73 feet of the Roman wall, immediately adjoining (3) was destroyed for the construction of the Inner Circle Railway in 1882. Drawings and photographs of the wall from the Gardiner Collection are now in the possession of Dr. P. Norman. The drawing of the wall by H . Hodge shows the external face with four courses of squared rag above the plinth followed by three brick courses, six courses of rag, two of brick, four of rag and two of brick.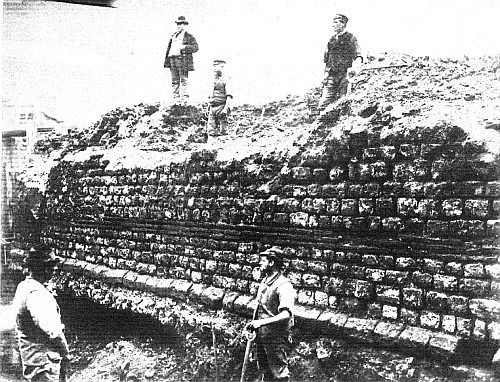 Town Wall, Trinity place. Part destroyed 1882

And Last updated on: Wednesday, 10-Jun-2020 23:02:20 BST