Roman London, the London Wall - Southend (formerly Blackwall) Railway, North
Roman London - the London wall
These pages are based on a "Royal Commission On Historical Monuments 1834" - actually it is 1928; which is in the public domain.
A mapping of the area is always good, modern day compared to pre-1900 maps from the NLS site
(7) . Southend (formerly Blackwall) Railway, North. In 1881 a further stretch of the wall immediately adjoining (6) together bastion No. 3, was destroyed in a widening of the side. The stretch was 40 feet above the plinth. The best record of it is a drawing by H. Hodge (Guildhall Library Add. Prints, p. 98) , which shows on the external face three courses of squared rag-stone below the plinth and four courses above followed by a triple binding-course with a set-back above the second brick , the six courses of squared rag-stone and a double bonding-course with a further set-back immediately above it ; finally three courses of squared rag-stone.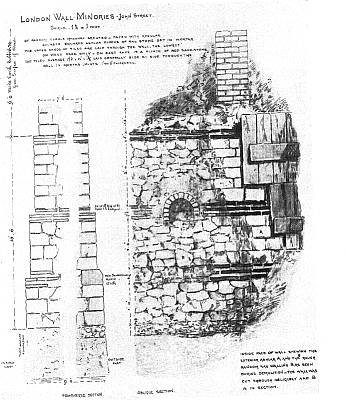 Town Wall part destroyed 1881 for the Blackwall Railway

On the internal face the offsets are reproduced with the usual triple levelling-course opposite to the plinth. The top section of the wall is shown 7 1/2 feet thick, and the footings are 9 foot in width. Loftus Brock records the composition of the wall at this point somewhat differently. He states that the width at the base was 8 1/2 feet, and his section shows no faced masonry below the level of the plinth. Above the latter the wall was 7 1/2 feet thick and stood to a maximum height of about 8 feet. His section, like that of H. Hodge, shows offsets on both faces of the wall.
A A Langley who was in charge of the work confirms Hodge's section, particularly in regard to the exceptional offsets on the external face and to the fact that faced masonry was carried below the plinth-level. He shows also that the foot of the faced walling was 18 feet below the modern surface and at about this level there was a roughly rectangular drain of Roman brick carried through the wall.

And Last updated on: Wednesday, 10-Jun-2020 23:02:20 BST