Roman London, the London Wall - Camomile Street, middle
Roman London - the London wall
These pages are based on a "Royal Commission On Historical Monuments 1834" - actually it is 1928; which is in the public domain.
(17) . Camomile Street, middle. In 1876 a stretch of the wall 70 feet long was uncovered and is described by J. E. Price in connection with the bastion. It was 8 feet thick and was destroyed above the plinth [J. E. Price, On a Bastion of London Wall, 1880].

In Woodward's Letter to Wren mention is made of the destruction of part of the wall near Bishopsgate. It is described as standing 10 feet high, with a thickness of 9 feet, and foundations 8 feet below the surface. The wall was built of courses of stone with double courses of bricks at 2 foot intervals.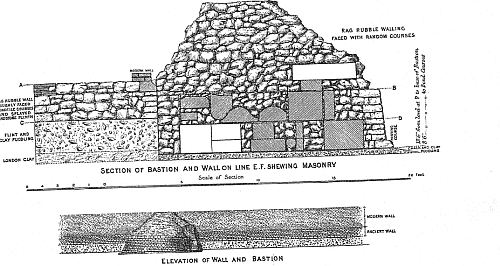 Section of Bastion and Wall Camomile street 1876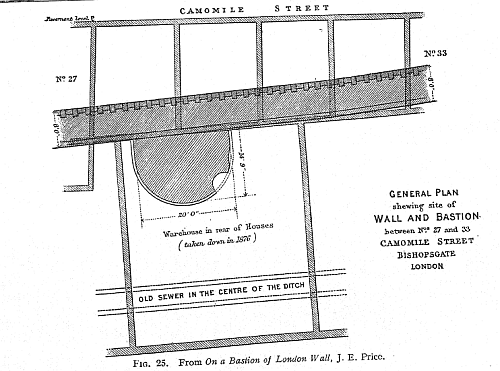 Plan of Wall and Bastion between 27 and 33 Camomile street 1876


And Last updated on: Wednesday, 10-Jun-2020 23:02:18 BST