Roman London, the London Wall - Bevis Marks, West of Goring Street.
Roman London - the London wall
These pages are based on a "Royal Commission On Historical Monuments 1834" - actually it is 1928; which is in the public domain.
(15) . Bevis Marks, West of Goring Street. A drawing, probably by H. Hodge, in the possession of Dr P. Norman shows a plan and section of the wall at this point discovered together with the adjoining bastion in 1884. Though there is no title to the drawing the mention of Castle Street (now Goring Street) in the levels is sufficient to fix its position. The wall rested on a foundation of flint and puddled clay and consisted on the external face of two courses of rag-stone, the red sandstone plinth, four courses of squared rag , a triple bonding-course of tiles and five courses of squared rag. On the inside face the usual three courses of brick lined with the external plinth. The base of the plinth was about 7 1/4 feet below the modern pavement-level and the wall was 8 foot 10 inches thick.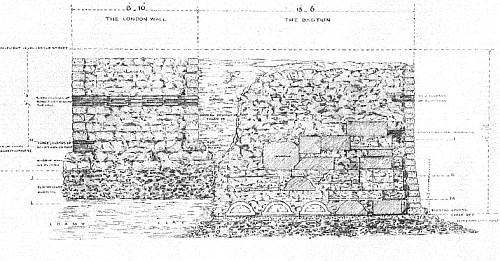 Town Wall and Bastion, Bevis Marks and Goring street (formerly Castle street) - a drawing in 1884


And Last updated on: Wednesday, 10-Jun-2020 23:02:18 BST